Novelties
: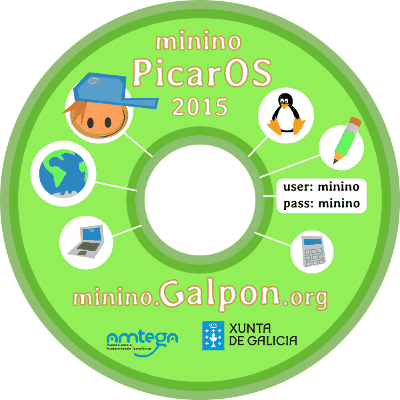 After several consecutive school years using PícarOS in the classroom, adjusting details, adding suggestions of our colleagues in PícarOS courses, fixing bugs, adding new programs to specific needs, modifying in order to suit a little better our students needs ... We are proud to present a new version of PícarOS, with novelties for children, for families and for our teachers colleagues. First of all, we have to comment that the bulk of this document and this one, remain up to date except for the news that we will discuss below:
System
We added new drivers printer / copier (Ricoh, Konica-Minolta, Gestetner ... and many others, taken directly from openprinting.org)
We still have the same kernel, but we added new drivers for WIFI cards to use new devices that are coming to the market today.
We added support for more whiteboards, in particular, support for StarBoard (Hitachi), SmartBoard, Multiclass and Promethean, besides having the system ready to quickly set up a low cost PDI using the Wii Remote. All with their corresponding programs to calibrate the board.
There is the category "System" in the launcher, hidden by default. In order to access it, you need to open any category from the top panel and then press the backspace key (delete).
Included a simple script that informs about USB drives or hard drives speed.
PicarOS have a very light desktop (approx 120Mb RAM), but we have prepared a script that modifies visual effects, disabled services and programs at the beginning, changes a little its appearance, while maintaining its functionality and adds more SWAP memory ... all for reducing the use of RAM and improving speed in very old computers. The script is called "Caracol" (Scargot) and can also be found in the "Minino utilities" menu entry.
Updated launcher to create our own custom PicarOS LiveDVD with just one mouse click.
It includes a program to recover deleted files from memory cards, USB flash drives or hard drives damaged or accidentally formatted files. It is very easy to use and very powerful, because you can use three different engines and merge results.
It has some simple scripts to change the size of the swap memory, to rename the PC name, and to add the above menu in "Caja" file manager.
At the request of several colleagues, we modified the desktop style "Netbook" to have the main panel below and so that it can be used as a desktop folder.
Updated top panel (lxpanel) to correctly display the battery on laptops.
We have included a program for updating as well, thus, it will be available for new programs, corrections or translations without having to install it all over again.
Now Timidity is not loaded on system startup, but is activated only if a MIDI program needs it.
Finally, if you drag and drop on the applet "Chanclas" , it will show up Youtube help of this particular program.
Accessories
Lector (reader), a program that reads any selected text in any application: LibreOffice, Internet browsers, PDFs, etc ...; but also it is ready to read digital books from publishers (not allow selection, very considerate of them>: - /) or PDF scanned as images, and performing character recognition on the fly.
Added new digital clocks, countdown timers, analog clocks and watches teaching.
Alea, a program that randomizes a series of words separated by commas for use in competitions.
Graphics
Shirt, a simple program to see how your logo would look in case you want to iron it on a T-shirt.

Added program for fractals.

In this version, you can find a program to create Stereogramas.

New image cropping program now allows you to crop multiple images of a single, ideal when we have to cut the faces of our students in a group photo.

GIMP updated to version 2.8.14. GMIC and added that gives us a hundred new effects.
Games
For newcomers, programs for practicing drag and drop, the click and double-click, fine control of the mouse movements (mazes).
Kidsudoku a sudoku for children.
Sudokuki, play, create and print Sudokus.
Mr.Rescue, rescues people from a burning building.
Classics that are now free: Prince of Persia, Maze of Galious, Xquest2
Tic tac toe, noughts and crosses.
Fixed bug in jclic, now aims to Firefox, Chrome will not open Java programs.
Fixed bug in Plop3D launcher.
Internet
Updated Firefox and Google Chrome. Firefox configured with Anti-tracking.
Programs to download anything from Youtube, videos, entire channels, playlists, subtitles ...
Simple script to download songs or Goear playlists.
Multimedia
Mixxx added for music events and parties.
We have included a program to learn simple songs and piano called visual Linthesia.
Monkey Drum now do not need an Internet connection to work.
MFC, a comparator of letters between the guitar and the piano.
Play it slowly, a program that helps slow down songs, useful for English teachers.
Corrected "DescargaTube" to update youtubedl if necessary, and it will not stop working when changing tags on Youtube.
Oficina
MatPuzzle, generator type math puzzle cards.
We have included a direct link to the web Tagxedo, the famous program to generate clouds of words, and although the authors say it's impossible to start on Linux, we prepared Firefox to run the pathetic Silverlight and use it.
Simple script that converts a PDF in a pamphlet of two pages.
PDFs updated paper cutter, Builder diplomas, the Card Creator and Genxword to do crossword puzzles.
In LibreOffice we added a color separator syllables and arches on each syllable.
We created from scratch a complete typing (Spanish) course to Ktouch with 500 lessons + 50 short texts in which we used actual words and phrases instead of repeating two hundred times letter combinations meaningless as in most such courses.
Others
Pressing F12 we can define keyboard shortcuts. We have added a translator and a dictionary. Also a script which will allow us to start a videocaptura (also accessible from the "Minino utilities" menu). And finally, a program that reads the screen.
We have included a special section for the didactic treatment of mathematics with a collection of programs which will help greatly to visualize, review and manipulate virtually the various mathematical concepts (comparing numbers, comparing fractions, statistics, geometric figures, equalities, geoboards fractals, virtual franelograms, number lines, prime numbers, abacus, polygons, interactive watches, calculators classic, coins and banknotes, multiplication tables, thermometers, protractors, timers, etc ...
We have also included a program to introduce children in cryptography, Krypto, with classic codes, they can encrypt their messages and even invent their new patterns.
A simple program to go slowly uncovering a picture you have to guess, it serves to encourage oral communication in children.
A program to sort sequences of vignettes.
A program which separates words in syllable (in Spanish).
Added to the "Utilities Minino" the Pequerrechos application for parental time control of computer use.
We also included a small script to enable or disable the start melody.
Click here to go to the download page
Esta publicación forma parte das actividades que GALPon realiza ao abeiro do convenio de colaboración asinado coa Axencia para a Modernización Tecnolóxica de Galicia (AMTEGA), e incluídas no Plan de Acción de Software Libre 2015 da Xunta de Galicia.